Buy your home in Santa Ponsa and the region with Da Silva Exclusive Mallorca Real Estate S.L.
The region around Santa Ponsa is one of the most beautiful and diverse on the whole of Mallorca. It is therefore not surprising that numerous prospective buyers decide to buy a house in Costa de la Calma or Camp de Mar. If you are also looking for your individual dream house in our beautiful region, then take advantage of our wide range of real estate.
As experienced real estate agents, we at Da Silva Exclusive Mallorca Real Estate S.L. has been active around Santa Ponsa for many years and is always able to present you with a portfolio of properties that has the right property for every requirement. To make your search easier, we have listed below all the houses on Mallorca that we are currently involved in brokering. Be inspired and inspired!
Ein Haus passend zu Ihren Bedürfnissen und Anforderungen
So vielseitig wie die Region selbst präsentiert sich unser Immobilienangebot im Bereich Häuser. Hier findet jeder Kaufinteressent das Objekt, das zu seinen individuellen Bedürfnissen und Ansprüchen passt. Wir bieten Ihnen unter anderem freistehende Einfamilienhäuser sowohl in ländlicher als auch in urbaner Lage. Wer viel Platz benötigt, etwa für die Tierhaltung, wird sicher mit einem der von uns angebotenen Landhäuser oder mit einer Finca glücklich. Gehobene Ansprüche im Hinblick auf das Raumangebot und die Ausstattung wissen die Villen in unserem Immobilienportfolio restlos zu überzeugen.
Doch auch wer den Trubel und das pulsierende Leben urbaner Gebiete vorzieht, wird in Form von klassischen spanischen Stadthäusern bei uns fündig. Moderne Bungalows, die kaum mehr etwas mit dem ursprünglichen spanischen Baustil zu tun haben, ergänzen unser Angebot an Häusern in der Region rund um Santa Ponsa.
Finden Sie eine Immobilie, die zu Ihrem Budget passt!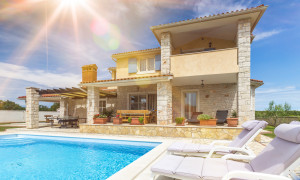 Nicht nur hinsichtlich der Größe und Lage bieten wir nahezu jedem unserem Kunden passende Immobilien an. Darüber hinaus finden Sie bei uns Häuser in jeder Preislage, sowohl für das knappe als auch für das nahezu unbegrenzte Budget. Sollten Sie Hilfe bei der Suche nach einer individuell auf Ihre Bedürfnisse zugeschnittenen Finanzierung benötigen, stehen wir Ihnen selbstverständlich ebenfalls kompetent zur Seite. Bei Bedarf vermitteln wir Sie zu einem unserer erfahrenen, leistungsstarken und seriösen Partner aus der Finanzbranche.
Informieren Sie sich online über Ihre Traumimmobilie!
Zu jedem Haus in unserem Portfolio finden Sie in der nachfolgenden Übersicht ein ausführliches und aussagekräftiges Exposé. Alle relevanten Daten, Zahlen und Fakten sind neben vielen Fotografien des Objekts in einem solchen Exposé enthalten. Dadurch sind Sie in der Lage, sich ein umfassendes Bild von Ihrer Wunschimmobilie zu machen. Sagt Ihnen eines unserer Häuser zu, kontaktieren Sie uns. Gerne bieten wir Ihnen die Möglichkeit, sich bei einem Besichtigungstermin vor Ort von den Vorzügen des Objekts zu überzeugen.
Entdecken Sie auch die weiteren Immobilienangebote von Da Silva Exclusive Mallorca Real Estate S.L.
Nicht jeder wünscht sich ein Haus oder eine Villa. Daher gehören zu unserem Immobilienportfolio stets auch Wohnungen, Grundstücke sowie Gewerbeimmobilien und andere Anwesen in Santa Ponsa und auf Mallorca. Diese finden Sie auf eigenen Übersichtsseiten.